Content
Tap the camera icon located next to the trashcan in the upper right corner of your cash register. The built in camera can now be used to scan items. See image below.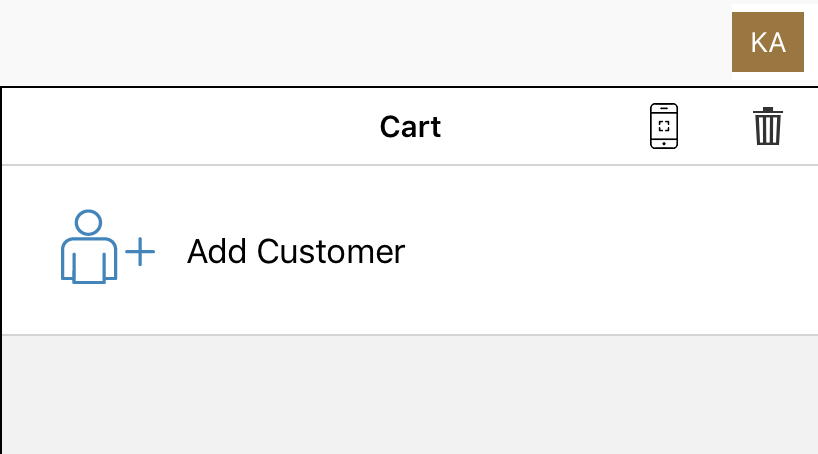 You can scan products, driver's licenses and more by using this function.
Allow Sitoo POS to access the camera
Press the home button once. This button is located on the short side of the iPad. Pressing this button will bring you to the iPad's start page.
Open the Settings app. See image of the icon's apperance below.

While in Settings, scroll down and tap the line Sitoo POS in the leftmost section.
Activate camera. The button on the right should turn green as it appears on the image below.

Exit the Settings app and open Sitoo POS. Login with your PIN.
Now when you tap the camera icon you will be able to exit the camera mode and return to the cash register app by tapping the X in the upper right corner.
The screen is black after I've pressed the camera icon
If you press the camera icon withouth first granting Sitoo POS access to the camera it may seem as if you are locked out of your iPad. Don't worry! Follow the steps below to exit the black screen.
Locate the iPads home button.This button is located on the short side of the iPad.
Double click the button, be sure to click twice in quick succession.
You will be presented with a list of all currently opened apps on your iPad.
Locate the Sitoo POS app. It should appear as a black screen in the list.
Swipe away the app. This is performed by placing your finger on the app in the list and moving your finger upwards. If the Sitoo POS windows disappears you have swiped correctly.
Start Sitoo POS again.
To avoid this happening in the future, follow the steps above to grant Sitoo POS access to the camera.