With the new Sitoo Dashboard you can quickly get all relevant sales data for your store with a simple tap.
Once a Dashboard is created for your store, simply tap your initials in the upper right corner of the app to access it. Please note that this feature requires activation from our end. Below is an example of such a dashboard.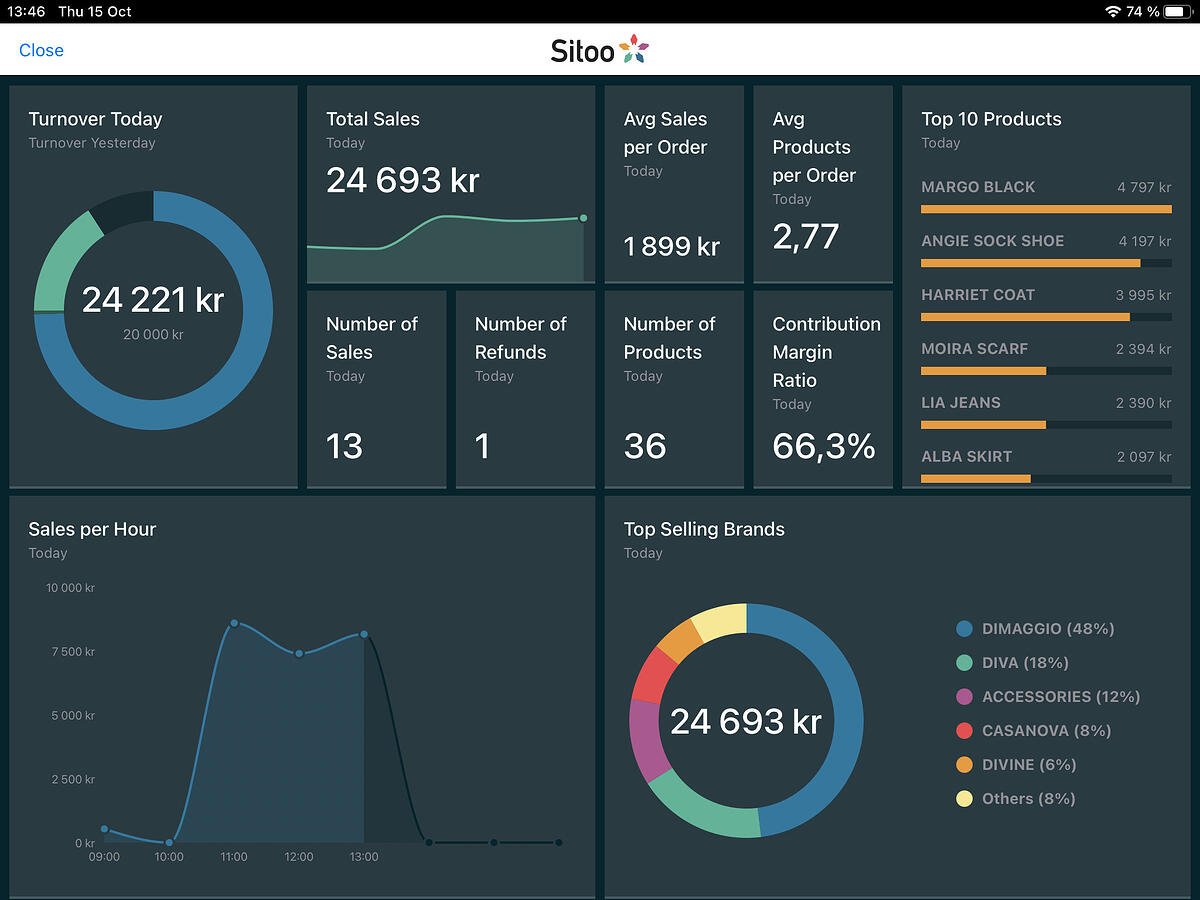 Activate your trial period
Please fill out this form. You will be able to specify your preferred language, as well as if you wish the dashboard to be presented including VAT or excluding VAT.
If you enjoy the feature and wish to subscribe to it by paying a monthly fee after your trial, you will be able to do some customisations on the metrics that are presented. For instance, last year, individual KPI:s, adding/removing modules, etc.
We will inform you when we have added the Dashboard to your environment. Before you can use it, however, you will need to configure some settings.
Configure settings in Backoffice
In order for the dashboard to work properly you will need to enter External ID on all your stores as well as on all staff contacts.
Go to Settings > Stores and click the pen and paper icon to edit a Store. In the section "External ID", enter a value. For example STORE1. Repeat for all your stores.
Then go to the Contacts tab in your Backoffice. In the dropdown menu that says "All Contacts", click and choose "Staff Only". As with the stores, click the pen and paper icon and scroll to the External ID field and enter a value. For example STAFF1.
Finally, assign a dashboard to your POS Profile. To do this, go to Settings > POS - Profiles. Click the pen and paper icon on the Profile you wish to edit and scroll to the section "Dashboards" and click the drop-down menu and choose the Dashboard you wish to associate to the Profile.