You can add and name payment options to be used in your Sitoo POS cash register. Each payment option requires a payment method. Some methods require that you have an agreement with third party providers (such as Klarna or Verifone). 
Add payment option
In your Backoffice, go to Settings > POS Payment Options. Here you will see a list of all the payment options you have added to your cash register. The payment options will be visible in the same order in your cash register as they are ordered in this view. You can prioritise the payment options up and down with the help of the different arrows in the Sort Order column.
Note!
Settings > Payment options will display the payment options for Sitoo Webshop.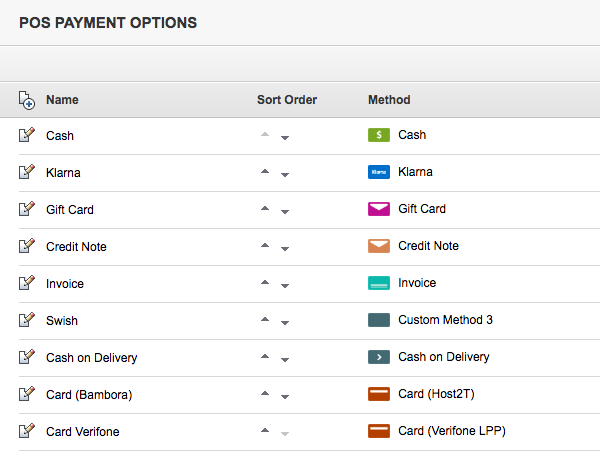 In Backoffice: Go to Settings > POS Payment Options.
Click the plus-icon to add a new payment option 
Enter a name for your payment option. For example "Cash"
Pick the payment method suited for your payment option.


Click Save.
If you want to edit an existing payment option, simply click the edit icon 
Available payment options