By using product groups you can simplify your bookkeeping and reporting. By using them you can easily generate reports on what product groups are performing best in your store. Product groups are used to separate whether the item you are selling is a good, service or gift card. The bookkeeping is simplified by product groups as you can designate vat types to different accounts.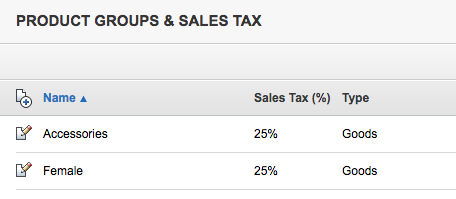 Contents
Add a new product group
To add a new product group, log in to Backoffice and click on "Settings". Here, choose "Product Groups and Sales Tax". You will then be presented with a list of all currently existing product groups. Create a new one by clicking the plus icon in the upper left corner.

Enter name
The name of the product group.
Internal comment
You can enter instructions and etc regarding the product group.
Type
You can choose whether the product group concern goods, services or gift cards. Goods and services are usually kept on separate sales accounts and gift cards on a debt account.
Sales Tax
Enter the VAT percentage you want applied to products connected to this product group. Gift cards should have 0 VAT.
Connect products to product groups
There are three ways to connect a product to a product group.
Edit a single product
Log in to Backoffice > Products.
Click the edit button (pen & paper icon) next to the product you wish to edit.
Scroll down to the section Product Groups & Sales Tax.
Choose the appropriate product group and click save.
Edit several products simultaneously
Log in to Backoffice > Products.
Search for the products you wish to edit or filter them by using the drop down menus.
Check the products you want to edit by clicking the box at the far left of the product line.
At the bottom of this page you will find the button "Set Product Group".
Choose the appropriate product group to connect your chosen products to.


Importing product groups and sales tax
You can also use the import function to assign product groups to products. Read more about imports here: importer.
Product groups on the Z-report
The product groups will be summarised on the Z-report and sales within each group will be presented both with and without VAT.
Product groups in reports and exports
Product groups can be used to filter out reports to only show data from a certain product group. In the same manner you can export an excel-file filtered on a specific product group.